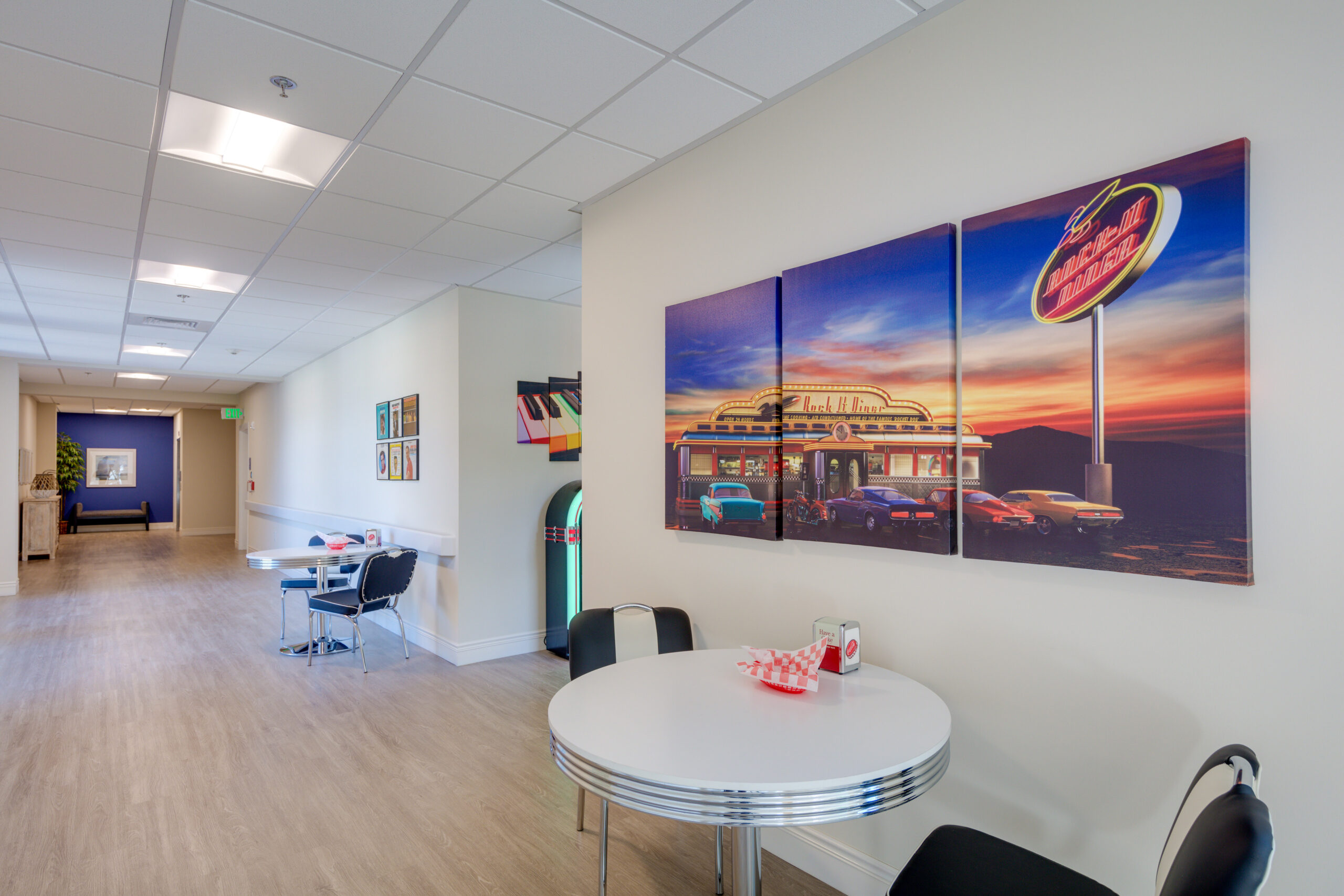 Indigo Hall Memory Care services
When it comes to caring for those with Alzheimer's and other forms of Dementia, Indigo Hall has the services and amenities that make us stand apart from the rest.
  Indigo Hall Memory Care services
As with our assisted living, dementia care offers meal services, help with activities of daily living, and of course housing. Additionally, many standardized dementia care services include: 
A lower staff-to-resident ratio
Specially trained nursing staff
Structured layouts and activities
Cognitive treatments and therapies
Memory care units have unique design elements
Our memory care units have enhanced security to prevent wandering, a common behavior among people with cognitive issues. We feature unique designs to assist with navigation with color-coded hallways. Indigo Hall has flowing floor plans, so residents don't feel like they're pacing back and forth. This designs can help residents be redirected easier and makes us more intimate and not overwhelming. To help our residents enjoy the outdoors safely, we also have an interior courtyard.
Memory Care design features
Additional layout or safety features include:
Clearly defined shared spaces
Lumenant Lighting - Circadian Lighting
Memory boxes outside residents' doors with personalized items to guide them and make them feel at home.
Secured and/or alarmed doors
Keypad entrances for family or staff
Circadian Lighting systems mimic natural day and night cycles can dramatically improve both the mood and the health of seniors (and staff) who spend most of their days indoors. Circadian lighting has been shown to improve sleep cycles, reduce anxiety and agitated behavior, and increase engagement in day-time activities. In clinical settings, adding circadian lighting can even allow for marked reduction in psychotropic and sleep medications for memory care patients.
Residents awake to a warm glow that mimics sunrise. As the morning goes on, that light becomes brighter and whiter like the sun outside, which stimulates alertness and encourages participation in community activities. In the late afternoon, lights shift to even hues, providing a peaceful atmosphere that prepares residents for bed and can help alleviate symptoms of Sundowner's Syndrome.  
Dementia treatments are based on our individual residents needs. However, there are several common treatments our staff uses in dementia care:
Memory Care focuses on communication and dementia behaviors
Through advanced planning and communication, our memory care staff are equipped to meet the needs of residents who exhibit a variety of dementia behaviors. Memory care staff specialists offer specific help to manage symptoms of sundown syndrome like agitation, wandering, and confusion.
For those who experience sundowning, it's important to avoid overstimulation. Our community has exercise classes after breakfast, when residents can handle more stimulation. By around 2 p.m. or 3 p.m., we typically engage in quieter activities such as aroma therapy to help them feel calmer leading into the evening.
Meal schedules also are often planned based on a resident's needs. Our memory care unit's special touches prove that every detail was well thought out when caring for the unique needs of an Alzheimer's or dementia patient.
First and foremost is the Dementia Dialogues course that every staff member, from the office staff to kitchen staff and even housekeeping, is required to take.
We want everyone to learn about dementia and the situations that might come up doing their daily activities. We talk about the symptoms of dementia and how to recognize certain behaviors. For example, housekeeping may find someone's purse in the trash. After taking this course, they will know why.
My Life's Journey
Indigo Hall refers to its memory care program as "The Journey," and the reasons are, in fact, quite touching. This program asks and records the history of our new resident to share with the entire staff to better understand and better serve our residents.
Wendy Albrecht, our Director of Memory care at Indigo Hall, said, "We want to know who our resident was before they were before they came here. What was their family like? Where did they work? Where did they grow up? It helps to re-center them when they start to lose their memory. We want to know their journey."
Indigo Hall helps families, too
Indigo Hall understands it is a very emotional decision for anyone to place a loved one in memory care. There can be a stigma about it, but there shouldn't be. We want our family's know that you are letting experts care for your family, and it's important to prioritize your mental and physical health. Knowing your loved one is receiving trained, 24-hour care can provide peace of mind while relieving the pressures and stresses of caregiving. Our memory care community also provides family support through education and group activities. These events are usually open to families and the public at no cost, and they help reassure families they're not alone.
It's also common for memory care units to feature a variety of speakers who talk about different subjects related to dementia. These events are usually open to families and the public at no cost, and they help reassure families they're not alone.
Memory care doesn't isolate seniors
Activities provide seniors our residents with group or one-on-one interaction, depending on their physical health and cognitive ability. Entertainers and musicians perform at community, and Indigo Hall's Activities Director plans activities based on residents' hobbies, likes, or general needs.
Some of our group activities include:
Games like trivia or bingo
Field trips to parks or shopping areas
Tactile activities (such as painting or feeling different textures)
Sensory stimulation (such as rubbing hands in lotion)
Indigo Hall's Memory Care community plans options for all residents, regardless of their dementia stage. All of these activities are designed stimulate seniors' minds, increase their motor skills, and provide social interaction. We strive to empower our residents to "Live Their Best Life" every day.