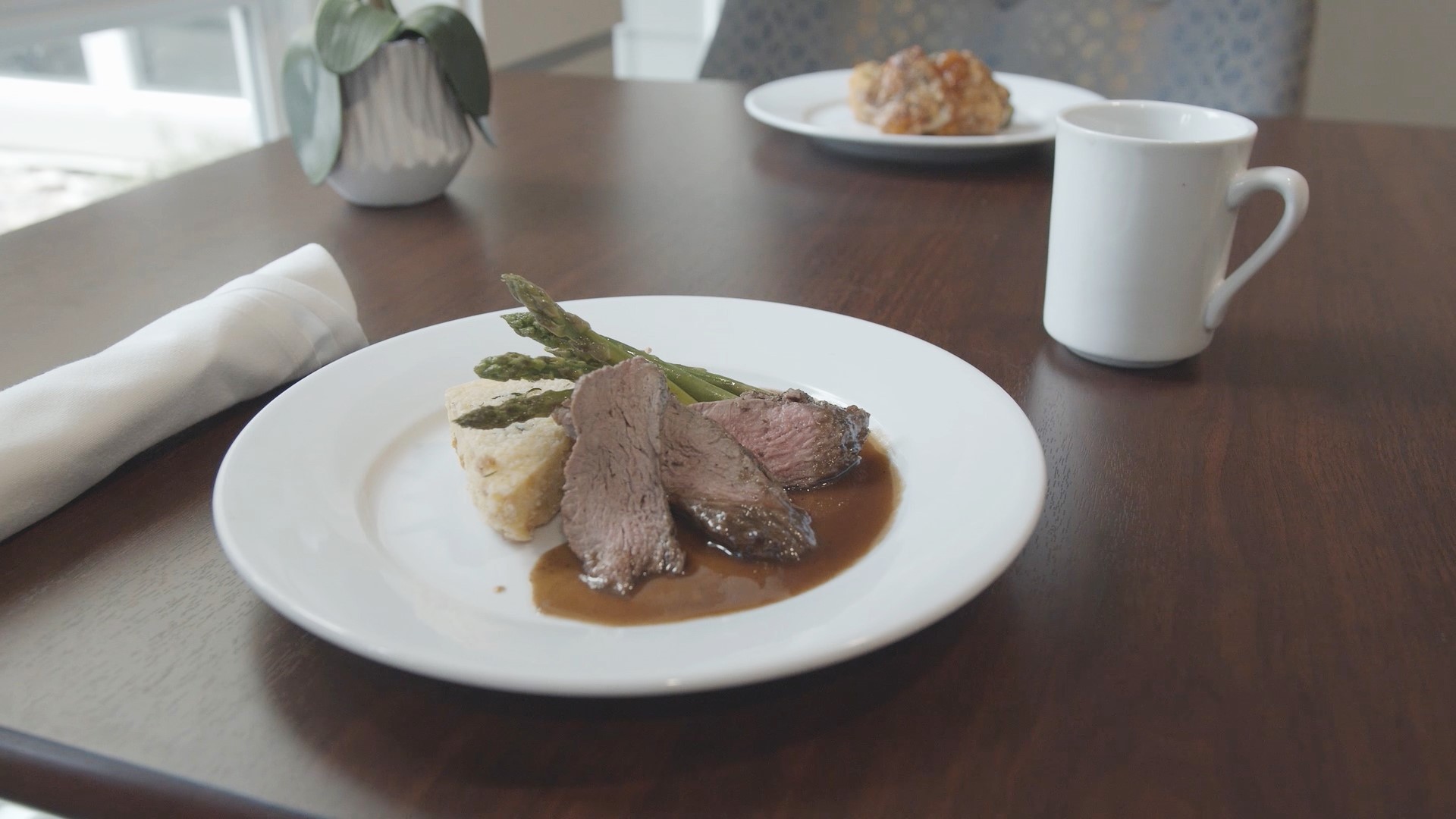 Bon Appétit! Dining At Indigo Hall Is Delicious And Diverse
Indigo Hall's Executive Chef Phil Gaulin joined our community after years of working as a chef for historic hotels.
"I am thrilled to work in this beautiful community, with our amazing residents and a terrific staff," Gaulin said. "I will continue to work hard to help provide our residents with delicious food, comforting meals, and memorable dining experience every day."
Indigo Hall has adopted a fine dining experience with a focus on locally-sourced and made-to-order menu items. Chef Gaulin has created more than a dining program at our community, he has a created an interactive experience for all our residents to indulge in.
Every day, we are told and read about the importance of healthy living. That has become a huge component of our daily meal planning, as well. Fresh fruits and vegetables, lower sodium, gluten-free and even vegetarian options are all standard fare on Indigo Hall's menu. Our food is made from scratch and comes directly from local farms to our table. Some of the many options and specials you'll see on our menu range from chicken and fish - elegantly and tastefully prepared with sauces and spices - to steaks, pizza, sandwiches, and even sushi.
Chef Gaulin consults with expert dieticians to ensure his menu features options that are not only delicious and diverse, but healthy and nutritious as well.
Our special panel of residents on our "Resident Council" provide menu consultations, as well.
The emphasis on providing a fine dining experience means residents can gather in the dining room, relax and socialize. Residents can catch up with old friends or make new ones. They can even invite family members to join them, and we offer separate, private dining rooms for our residents' special occasions.
Our residents are treated daily to a five-star restaurant experience, complete with tablecloths and linens, crystal glasses, and fine china.
Indigo Hall also serves alcohol daily in our lounge and bar for "Happy Hour" for residents who choose to partake.
Our dining Chef and staff understand that our residents have both individual tastes and unique health needs, those thoughts and needs are considered daily for our meal preparation at our community. A standard full menu is always available along with daily specials, just like your favorite lowcountry restaurant - except this one is right in your home!
Oh, and did we mention the wait staff? Yes, our resident diners are waited on by dedicated servers who explain specials, take orders and deliver meals to the table. Bon appétit!