Dedicated professionals sought for fine dining positions
Culinary career opportunities abound in an often-overlooked market segment: Senior living
By: Richard Gould
CHARLESTON, S.C. — Charleston's premier resort-style senior living community is excited to present a series of career opportunities in the culinary field. 
Indigo Hall is located in historic Charleston and is known throughout the region as the go-to destination for assisted living and memory care services in a modern luxury environment. The residents enjoy top-tier cuisine prepared by five-star Executive Chef Kevin Bruntz who's looking to round out his staff by hiring a new dining room manager, servers, and a part-time cook.
Those interested in applying for the positions are invited to attend a hiring event, which will take place at Indigo Hall on Tuesday, May 10 from 11 a.m. until 3 p.m. at 509 Standard Way, Charleston, SC 29412.
Bruntz provides his nearly 130 residents with their favorite meals on their birthdays whether that's filet mignon, lobster, or shepherd's pie. The turkey and goat cheese salad is a perineal favorite. And with a new pastry chef on staff, the options are endless.
Many of those who come to work in Indigo Hall's dining room are people who have worked in other elder care facilities in the past. Sometimes they're from other backgrounds entirely and they're brand new to the food industry.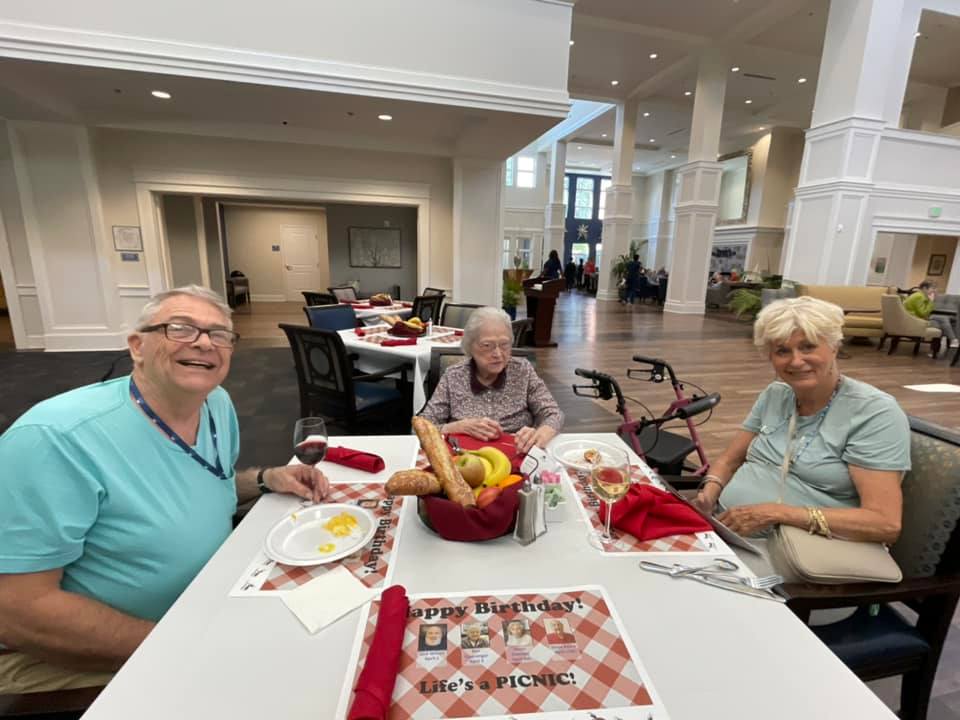 There's always a reason for a great meal at Indigo Hall — especially when residents get to celebrate their birthdays with good food and good friends.
"They often come to us from retail," Bruntz said. "What's important is that they have good face-to-face skills. They need to have solid social skills and they need to be able to build rapport with our residents." 
One of the main things that separates Indigo Hall from a traditional restaurant is that it's a senior living community where the team prepares meals for residents, rather than serving customers who've stopped by for a meal. The residents rely on the kitchen staff to know their dietary restrictions and allergies and to serve them the appropriate food.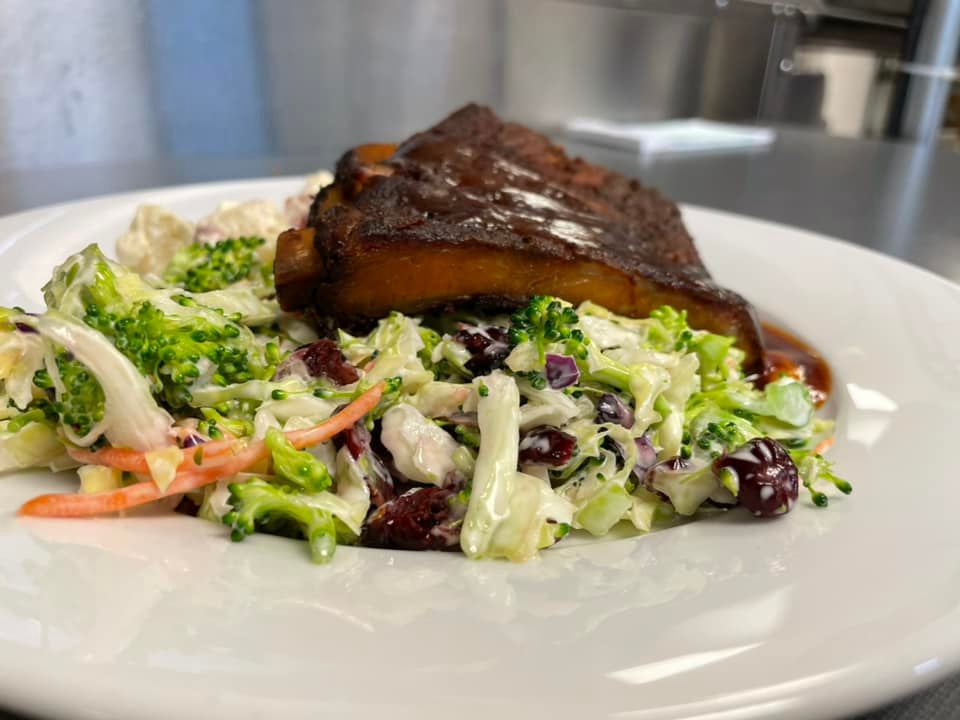 Broccoli salad and glazed ribs are just one more dining specialty for the residents at Indigo Hall.
It's upscale dining. When servers refill their diners' tea, they never touch the pitcher to the rim of the glass — and they never pour into a glass while it's on the table. The food is superb, and the tables are decked out with white tablecloths. Expectations are high. 
Bruntz makes sure his team knows the tricks of the trade. He makes sure they know how to carry a tray, serve a table properly — serve from the guests' left using your left hand — and clear from the right.
In addition to servers and a part-time chef, Bruntz is looking for a great dining room manager. He's looking for someone who can be in tune with Indigo Hall's residents and to make sure they have whatever they might need. Someone to coordinate scheduling, training and the needs of the front of the house.
"I'm looking for someone to be hands-on," Bruntz said. "I need someone to be here to oversee all three meals."
One thing that makes Indigo Hall different from a lot of restaurants is that the phrase, "That's not my job," is forbidden. It's a team environment, and everyone is expected to pull together for the common good.
"I'm not going to ask anyone to do anything I'm not willing to do myself," Brunt said. "I wash dishes when I need to — we all do." 
Breakfast is a la carte, while lunch and dinner run a bit more like banquet service than a standard restaurant. Residents choose their options and their selections are plated professionally to ensure a beautiful presentation. Dinners can be shrimp and grits, grouper or fried chicken with red rice and collards, and the cooks aren't working from pre-prepped commodities. 
"We're a total scratch kitchen as much as possible," Bruntz said. "And now that we have an in-house pastry chef, we're able to do some really fun things." 
Indigo Hall is rife with comfortable amenities. "We have three courtyards, two transportation vehicles (one's a Cadillac). We have a full spa: hair, nails, pedicures, everything," said Indigo Hall's Executive Director Christy Drinkard. "And we're all-inclusive. That's something very unusual for this area — most of our competitors have a base rate and then they add to that based on the amenities you choose." 
The community's reputation proceeds it.
"We're definitely high-end assisted living and memory care," Drinkard said. "This is a $42 million building. We are top-notch quality." 
For more information, you can visit our Facebook page. To attend the hiring event, register online and come out on Tuesday, May 10th from 11 a.m. until 3 p.m. at 509 Standard Way, Charleston, SC 29412.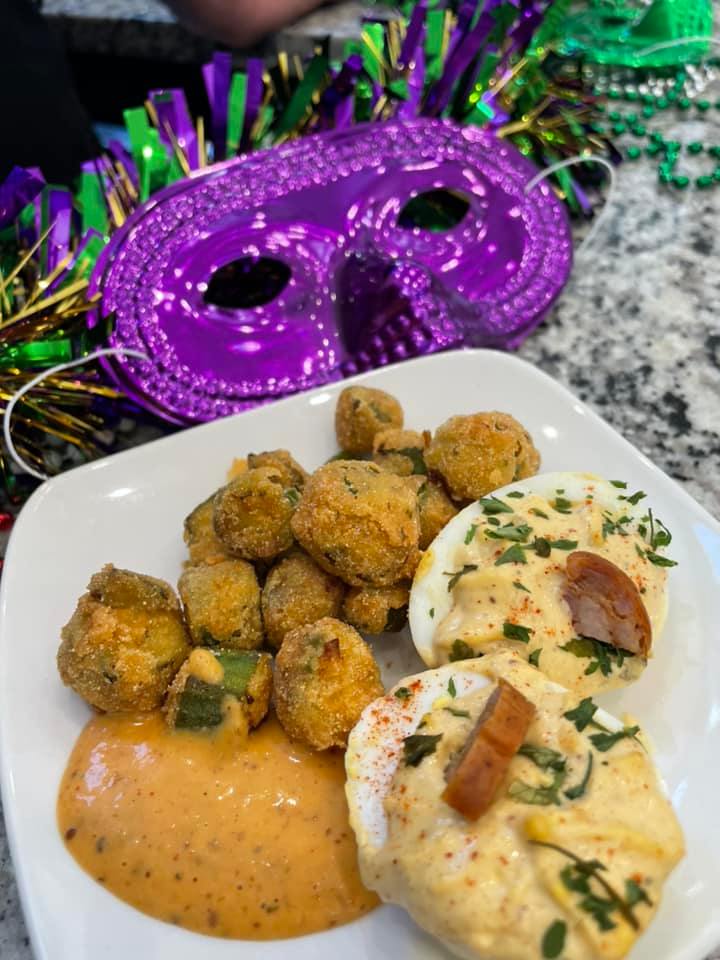 Indigo Hall's Executive Chef Kevin Bruntz likes to keep things festive. Nothing says Mardi Gras quite like Cajun fried okra with a side of top-tier deviled eggs.